Kana Omori completed both her undergraduate and
graduate studies at Osaka College of Music in 2007.
Her principle teachers were Prof. Toru Kitano and
Ms. Yuriko Onishi for percussion and marimba. Additionally,
Ms Omori completed a graduate degree at the University
of Music and Performing Arts in Munich, Germany with Prof.
Dr. Peter Sadlo and Mr. Franz Bach in 2010.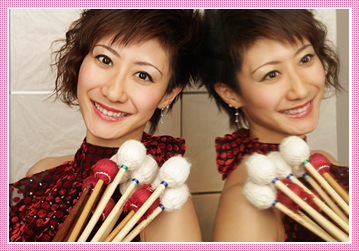 Ms. Omori has competed at numerous prestigious percussion and marimba competitions including First Prize at the International Music Competition in Kobe, Japanin 2006. She also received a Yamaha Prize after appearing at the Percussion Freshman Concert in Japan in 2005. Her most recent prizes include First Prize and Absolute Prize with the highest points at the PAS International Percussion Competition
in Fermo, Italy in 2010, where she was also awarded a special prize from jury member N.J. Zivkovic.
In 2011 she was awarded the Cultural prize of the city of Seika-cho, Kyoto.

 Ms. Omori enjoys an extensive international performing career. She has appeared as a soloist with the Osaka Philharmonic Orchestra performing Concerto for Marimba and Strings by Emmanuel Sejourne with Japanese Premiere. She has also appeared with the College Opera House Orchestra, Osaka, performing Concerto for Marimba and Orchestra No.2 Op.25 by Nebojsa Jovan Zivkovic.

Kana Omori has appeared on German Television where she performed a piece by J.S. Bach arranged for percussion. She has given frequent recitals in many countries including Japan, Germany, Switzerland, Italy and France. A proponent of contemporary music, she is particularly interested in premiering new works written for her by young composers.

She has been performing as one of endorsers of Korogi Musical Instruments.